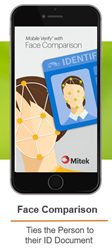 Mobile Verify Face Comparison
"Recent identity theft events make it even more essential that banks verify identities in the onboarding process", Don Bergal, Avoka
DENVER (PRWEB)October 24, 2017
Avoka, the provider of frictionless digital customer acquisition for financial services, today announced an agreement with Mitek, a global leader in mobile capture and identity verification software solutions. This means Mitek's suite of identity verification products will be fully integrated within Avoka's Transact offering as part of a complete customer acquisition solution, now available to global customers under one single software license. The partnership, built on years of alignment between Avoka and Mitek, simplifies integration with banks' own systems, speeding up time to market for implementation.
The Mitek products will be available as options in the Avoka Transact® platform. In addition to Mitek's Mobile Fill®, Avoka is adding Mobile Verify® and Mobile Docs™ to offer banks a seamless account opening process that empowers customer to complete an online application for consumer banking products, such as credit cards and loans, and fully verify their identity digitally, eliminating the need for a physical bank branch visit. This approach will significantly reduce application abandonment rates, an inhibitor to true real-time digital customer acquisition for banks. This technology also helps banks achieve KYC/AML compliance.
Built on the latest advancements in AI and machine learning, Mobile Verify® enables identity verification in real-time by authenticating government issued identity documents and matching the document photos to a selfie.
Don Bergal, Chief Marketing Officer at Avoka, said: "We can now deliver a completely digital customer experience that includes identity verification without a branch visit, and that meets specific compliance requirements for North American and European markets – all through a single software solution. It's our mission to help global banks deliver an outstanding customer acquisition experience, while ensuring that our clients are one step ahead when it comes to AML/KYC and fraud detection."
Sarah Clark, SVP product, Mitek, added: "Adding our identity verification solutions to Avoka Transact will enable banks to offer a fully digital, compliant, real-time account opening experience. The combination helps banks get to market quickly with a user experience that appeals to millennials and other growth markets."
About Avoka

Avoka accelerates customer-centric digital transformation in financial services, government and other industries. Avoka Transact creates frictionless omnichannel customer experiences that increase business agility and accelerate customer acquisition and onboarding. Avoka was founded in 2002 and has digitized over 100 million transactions for 100+ global clients. Avoka is based in Denver, CO, London, England and Sydney, Australia. Visit us at http://www.avoka.com/
About Mitek

Mitek (NASDAQ: MITK) is a global leader in mobile capture and identity verification software solutions built on the latest advancements in AI and machine learning. Mitek's identity verification solutions allow an enterprise to verify a user's identity during a digital transaction. This enables financial institutions, payments companies and other businesses operating in highly regulated markets to mitigate financial risk and meet regulatory requirements while increasing revenue from digital channels. Mitek also reduces the friction in the users' experience with advanced data prefill and automation of the onboarding processes. Mitek's innovative solutions are embedded into the apps of more than 5,800 organizations and used by more than 80 million consumers. For more information, visit http://www.miteksystems.com or http://www.miteksystems.co.uk. (MITK-F)
Media Contacts

US
Bar Cudkevich, Aspectus PR

Bar.cudkevich(at)aspectuspr(dot)com

+1 646 793 3150
UK
Lucinda Armitage-Price, Aspectus PR

Lucinda.armitage-price(at)aspectuspr(dot)com

+44 (0) 20 7092 8135
Australia
Ian Pemberton / Matthew Russell, P&L Corporate Communications

+61-2 9231 5411