If Donald Trump satisfies Republicans' demands to defang the Consumer Financial Protection Bureau, it will be unfortunate for the regular folk whose interests the president promised to defend. It might be sweet, though, for the banks and other companies on whose customer-service practices the bureau has shed unwelcome light.
The financial industry has long opposed one of the CFPB's most notable innovations: a public database that registers and tracks complaints about services such as mortgages and credit reporting. The bureau receives grievances and passes them on to companies, giving them 15 days to respond before the outcome is published. This has created pressure to be more responsive, and provided recourse for consumers who previously had nowhere to go.
The companies' lobbyists argue that publishing the data isn't fair. For one, the CFPB verifies only the consumer's relationship to the company, not the substance of the complaint. Also, the news media don't always put the data into the proper context: Companies that are bigger, deal with more retail consumers or engage in contentious lines of business (debt collectors, for example) will inevitably receive more complaints. In any case, disgruntled customers represent a small fraction of the total.
That's all worth keeping in mind. Still, the database provides a valuable resource. It can reveal significant differences in customer service among companies in the same line of business. Across industries, outsize complaint rates can be indicative of deeper problems — particularly in areas such as debt collection, where people typically don't choose to become a company's customers.
So, before the database gets shut down, let's see what it tells us about how companies treat their customers. 
Since the beginning of 2015, the CFPB has processed more than half a million complaints. I'll look at the period before April 24, 2017, (when the bureau changed its data fields) and at six types of services: bank accounts, credit cards, credit reporting, debt collection, mortgages and student loans.
Which produced the most disgruntled consumers? Taken together, the three big credit reporting companies — Equifax, Experian and Transunion — generated by far the most complaints (more than 90,000). But that can be misleading: They operate in a very big market, collecting information on some 220 million U.S. consumers.
To put things in perspective, I estimated the number of people each service touches, and calculated how many complaints they receive annually for every 100,000 people. By this measure, the debt collectors took first place, followed by mortgages (which includes both lending and servicing). Here's a chart: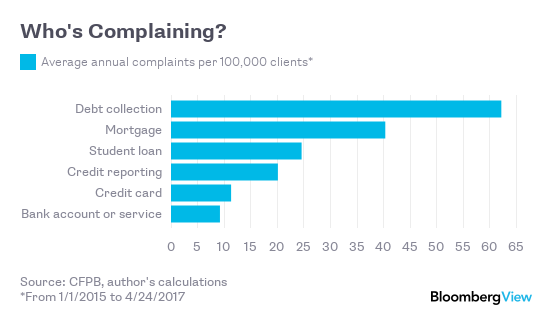 And how well do companies handle those complaints? The database offers them several response options, such as "closed with monetary relief" or "closed with explanation," and also records whether the consumer disputed the response (up to April 24, when the CFPB moved to a different system). To gauge performance, I calculated the percent of complaints that ended in dispute.
As a whole, the companies did an impressive job — a reflection of either good will or the salutary effect of having the CFPB watching over the process. The overall dispute rate was about 18 percent, which means that more than four-fifths of complaints were resolved to consumers' satisfaction. That said, different types of services fared differently. Here's a ranking: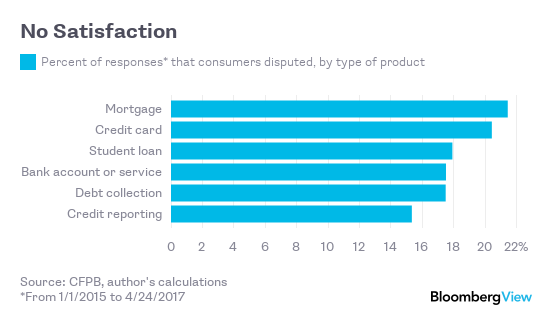 Some companies also did better than others. I focused on those that received at least 1,000 complaints over the whole period. In credit reporting, Equifax had by far the highest dispute rate (and this was before it announced its big data breach in September):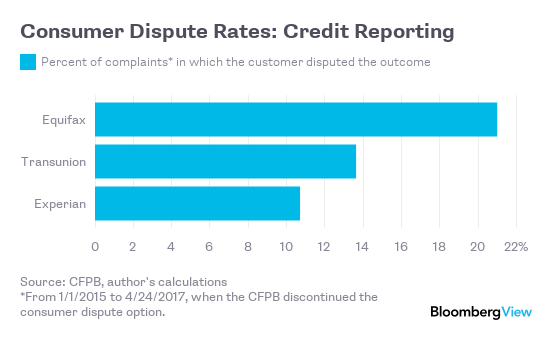 Big universal banks had pretty similar dispute rates, though JPMorgan Chase led the group:
And here are the top three among credit-card issuers, debt collectors, and regional and midsize banks: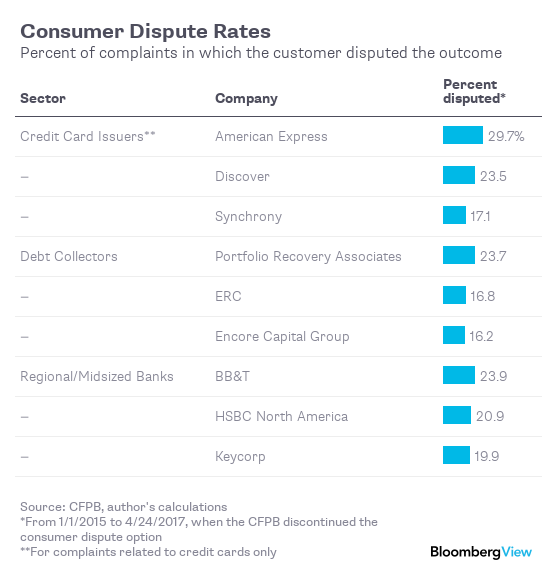 Representatives for Experian, Wells Fargo, Discover, Encore Capital, BB&T, HSBC and Keycorp all stressed their companies' commitments to resolving complaints (fuller statements below). 1 Equifax pointed out that complaints often involve credit information provided to it by other companies, and may involve fraudulent attempts to remove information. Synchrony stressed that its dispute rate for credit-card complaints was actually lower than those of all the universal banks (which are also large credit-card issuers). Encore added that it had investigated the disputed outcomes and "confirmed that each account was valid, with an accurate balance, and appropriately placed in collections." HSBC noted that its dispute rate decreased over the period examined.  The other companies either declined to comment or didn't respond to requests for comment.
For anyone who wants to dig deeper, the database is still available on the CFPB's website, along with a useful search function. You might want to hurry, though.
This column does not necessarily reflect the opinion of the editorial board or Bloomberg LP and its owners.
Companies' comments (some lightly edited):

Equifax: "When the CFPB's Consumer Database was originally established, it was designed to receive complaint information for credit card and mortgage accounts; it was not originally set up to distinguish between a complaint or a true dispute, as defined by the Fair Credit Reporting Act (FCRA). A consumer dispute under the FCRA would be regarding something on the consumers file, and most often regards account information reported to Equifax or another credit reporting agency; a true complaint would be regarding delivery of service (e.g., hold time, difficulty with the website, etc.) or products. In addition, the process of collecting information for this database did not consider the unique infrastructure of the nationwide consumer reporting agencies when it was originally established.

"The majority of what we see the CFPB Complaint Portal reporting as Equifax 'complaints' falls under the category of disputes (vs. complaints) as defined by the FCRA, and may involve incomplete or inaccurate information from a data furnisher.

"When a consumer files a dispute with Equifax, and account information is involved, the first step we take at Equifax is to contact the data furnisher. We also encourage consumers to contact the data furnisher directly as well. We cannot view a consumer's account information on their behalf as that would be a violation of privacy.

"Consumers continue to go through the dispute process, disputing the same information with Equifax for a number of reasons, including: they may have a legitimate issue that needs to be resolved with the financial institution/data furnisher; they may not understand how or why things are reported or the timing of the reporting by the data furnisher to the nationwide consumer reporting agencies; and there may also be situations where a consumer fraudulently attempts to file a dispute in an attempt to remove information from his/her file.

"What we've also seen lately is an increasing number of the disputes in the Complaint Portal actually are being submitted by consumer repair agencies, rather than individuals, which adds to the complaint numbers reflected in the database."

Experian: "Experian North America manages more than 220 million consumer credit files, and we strive constantly to provide consumers with the systems and processes that reflect best practices to help them dispute and manage their reports. As part of this, we have cooperated fully with the CFPB in the administration of their portal and in responding to complaints and monitoring results generated from it. We have also invested in our dispute system at www.experian.com/disputes to provide a simpler method to dispute; and as part of our commitment to the consumer, we provide ongoing education on how consumers can best manage their credit."

Wells Fargo: "Whether our customers reach out to us directly through our locations, customer service phone lines and websites, or through third parties, like the CFPB, their feedback is important to us and we take it seriously. We work with each customer in an effort find solutions that meet their needs and take into account their individual circumstances."

Citibank: "At Citi, customer satisfaction is extremely important to us. We take customer issues very seriously and strive to resolve them as quickly as possible when they arise. We are proud to have been named the #1 national bank in customer satisfaction for the second consecutive year by the American Customer Satisfaction Index."

Discover: "Discover has a cooperative relationship with the CFPB and shares the agency's interest in protecting and educating consumers. Every customer is valuable to us and we take their concerns seriously as we work toward a solution with each individual. We are proud of our high-quality customer service and the strong relationships we've developed with millions of customers."

Encore: "Encore prides itself on having established a robust review process that includes a root cause analysis for all complaints and disputes. This analysis has allowed us, in the past two years, to cut our complaints in half, all while adding more accounts and serving more consumers.

"In the normal course of business, we investigated each of the 689 accounts with response disputes during this period, and confirmed that each account was valid, with an accurate balance, and appropriately placed in collections. Indeed, our investigation and analysis demonstrates that 93% of the overall complaints and disputes we receive are, in fact, simply requests for verification of a valid debt. At times, consumers aren't satisfied with the information that they receive in response, even if it serves as validation of the original debt that they owe. Unfortunately, consumers oftentimes use the CFPB complaint portal in hopes of having an accurate report of a valid debt removed from their credit report. However, because of our thorough investigation of every complaint, we are confident in the validity of the debt, and stand by the appropriateness and accuracy of our credit reporting. On many occasions, consumers will simply re-submit the same dispute in hopes of a different outcome or as a delay tactic, which leads to a substantial portion of the 16.2% dispute rate you referenced.

"It's also important to put these metrics into context. Our average CFPB complaint rate is two complaints per month per million accounts. That is a statistic that we work hard on improving, and are proud of. We receive many more expressions of gratitude in any given month than we do CFPB complaints."

BB&T: "When a client brings their concern to our attention, our goal is to resolve the issue promptly and completely. BB&T has an extensive complaint resolution process to ensure we meet and exceed the expectations of our clients and we're improving that process all the time."

HSBC: "Our Retail Banking and Wealth Management business has gone through an ambitious transformation to improve our digital and customer experience, which has grown our customer base. The number of cases going to the CFPB has continued to decline over the last few years and is evidence of our improved banking experience. From January to April 2017, the rate of dispute has declined significantly to 13.4% compared to 23% in 2015. Our customers remain our top priority and we will continue to drive improvements that put them first."

Keycorp: "We want to hear from clients any time we fall short of their expectations, and then we do our best to resolve these clients' problems. We believe that our clients are generally pleased with the extra steps we take to understand their concerns and provide solutions."
To contact the author of this story:

Mark Whitehouse at [email protected]
To contact the editor responsible for this story:

Stacey Shick at [email protected]