The adoption of mobile banking apps is moving steadily ahead, according to new data from customer experience management firm Market Force Information. The company's August 2017 poll of US internet users revealed that nearly 80% of respondents had downloaded their primary bank's mobile app.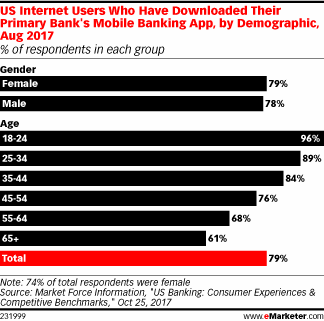 However, it should be noted that other sources have found a much lower uptake of banking apps among internet users. For example, a poll of US internet users carried out by AudienceProject in Q2 2017 found that just 20% of respondents had used a banking or finance app. But that gap might be explained by the fact that significantly more people were downloading banking apps than using them.
Unsurprisingly, Market Force Information found that the bank app download rate was highest among the youngest group, those ages 18 to 24, 96% of whom had installed a banking app. Install rates declined in correlation with rising age; only 76% of those ages 45 to 54 had downloaded their bank's app.
The survey also found that the most popular reason for using a banking app was to check an account balance. Checking a statement or payment history as well as depositing money were also cited by a majority of respondents. Only 17% said they had used the app to send money to other people, a signal that mobile banking apps are not widely used for peer-to-peer payments.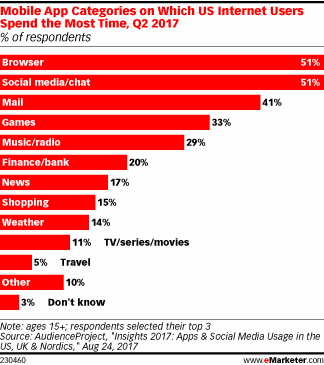 But just because the app had been downloaded doesn't mean it was used by most people with any regularity. The poll revealed that only about four in 10 respondents used their banking app on a daily basis, while 45% did so weekly. Again, younger users were friendlier toward banking apps, with a larger percentage from that cohort opening their app on a daily basis.
Among those who had not downloaded their mobile bank's app, 44% cited their preference for using a PC as their main reason, a sign that banks might consider doing more to improve the mobile user experience. But nearly one-third (31%) cited security concerns.
In the US at least, Bank of America seems to be doing the best job of keeping banking users engaged with its native app. According to SimilarWeb, users of the bank's app spent a daily average of 8 minutes, 14 seconds with their app in H1 2017, more than apps offered by either Chase (8 minutes, 7 seconds) or Wells Fargo (7 minutes, 3 seconds).
—Rahul Chadha