According to a report by Nigerian Communications Week, the Central Bank of Nigeria (CBN) has revealed that it is working toward the replacement of the ATM pin code with biometric identification. The announcement was made at the recent Nigeria Electronic Fraud Forum (NeFF) where Mr. Dipo Fatokan, the Chairman, NeFF and CBN director of banking and payment systems, stressed the need to step up to a more secure biometric standard.
Governor of CBN, Godwin Emefiele (Photo: ThisDay)
According to Mr Fatokan, the move was necessitated by their concern that illiterate Nigerians have to give up their pins to strangers:
"Your [ATM] pin and account details are not supposed to be disclosed to a third person, but cardholders who are illiterate or incapacitated often must share this information in order to use an ATM.

Biometric ID offers a logical and secure solution to this problem because there is no way you can give your finger to a third party."
How dramatic. Let us assume for a second that this project gets rolled out successfully – which is a huge assumption. It's actually more likely that Nigeria "steps up to the more secure biometric standard", and all armed robbers have to do is simply force people to place their fingers on biometric scanners, in the same way they currently force them to enter their pins. Not to mention, illiterate or incapacitated people are not really helped by the biometrics development. You know why? They still have to read these instructions!
Not to mention that ATM queues will get worse if people cannot figure out how to place their finger.
(Photo: NAIJ)
Mr. Fatokan acknowledged that the high cost of biometric hardware means that migration will take time (and lots of taxpayer money to essentially achieve nothing much), but as the CBN views this as an essential element in the bank's efforts to stop banking fraud, it is only a matter of time.
But hey! Let's not get ahead of ourselves. Despite the apparent optimism of the CBN, there is actually no indication of when the shift to biometric ID will begin – no timelines, not even unrealistic ones.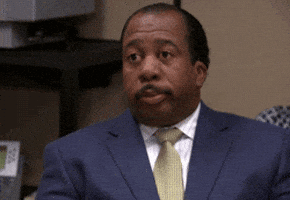 (Source: GIPHY)