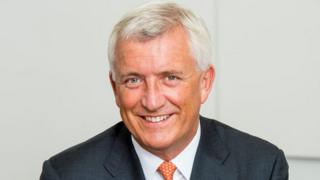 Banks will have to go through radical change to survive amid challenges from technology firms, according to one bank boss.
New rules known as Open Banking could see some banks disappear over time, says Clydesdale and Yorkshire Banking Group chief executive David Duffy.
He told BBC 5 Live's Wake Up to Money podcast that the plan to allow people to share their financial information was a "once in a lifetime change".
Nine major banks must comply soon.
Open Banking means that from 13 January customers can choose to easily and securely allow their banks to share details with other banks and financially regulated companies.
With customers' permission, those companies will be allowed to access data including earnings, debts, and credit cards – with the aim of offering us tailored financial products based on that information.
Mr Duffy said this could spell the end of traditional banking as we know it.
"It's not about one bank versus another or a small bank versus a big bank. It is how you survive in a world where other people do banking better than the banks do," he said.
It could also allow big technology companies such as Amazon to enter the market, with banks having to adapt to survive.
"The banks you know today might disappear altogether over time. There are various views on how extreme [it would be] or how quickly that process might happen," Mr Duffy added in Wake Up To Money's Boardroom Stories podcast.
"The banks [face] the possible consequence of death by a thousand darts, where all the individual higher margin services are being taken out by these other providers."
What is Open Banking?
Your financial data is valuable. For example, a loan provider would be keen to know exactly when you go into the red each month.
To date, this information has been held by your bank – and most people stay loyal to the one they are with. The Competition and Markets Authority (CMA) found that just 3% of personal customers move their accounts each year.
The Open Banking regime means that such data is owned by the customer, not by the bank. He or she can share it electronically with businesses offering certain services to try to get a better deal on financial products, such as getting a cheaper overdraft elsewhere.
In practice and in time, customers will probably see a dashboard on their bank's smartphone app. This will show them how much money is in their accounts with different banks, and eventually how much they owe on credit cards and store cards too.
The dashboard will also allow customers to use services provided, not just by their bank, but by other provider. So, a business separate to the bank might take money left over at the end of the month and invest or save it.
The CMA claims this will be revolutionary for current account customers.
Mr Duffy questioned regulation of the new system. "What is the liability? That is the real core of the debate at the moment. If you give the data to a third party that the customer has requested and something goes wrong with that transaction or there is a loss, who is liable?"
The City regulator, the Financial Conduct Authority, said businesses providing these services would need to meet requirements designed to protect customers from financial and data loss.
In practice, if anything goes wrong and there is an unauthorised transaction, the customer's bank must refund the money and claim it back from the third party if the issue was its fault.
The UK's nine biggest current account providers were told by the CMA to be ready to start Open Banking on 13 January. They do not include Clydesdale and Yorkshire.
Five of them have already said they will not be ready. A maximum of six extra weeks preparation time has been given to Barclays, Bank of Ireland, RBS and HSBC. Allied Irish Bank, Danske, Lloyds Banking Group and Nationwide will be ready to start on time.
Mr Duffy said banks will need to provide more than just financial services. Like most other banks, his bank has been preparing for the arrival of Open Banking by developing the apps it offers.
He has decided that offering lifestyle options such as travel or health apps as well as financial support will be key to retaining customers when Open Banking arrives.